We just got back from Jason and Mache's wedding in Rockhampton, Queensland, Australia.  We left for OZ last  25th September (evening), shoot a wedding on the 27th and spent one hell of a vacation in Brisbane and Sydney, Australia…
I apologize for not having to post for quite some time. I intentionally stayed away from work… we are on vacation remember?
Aus brings a lot of memories for me as I worked for Maunsell (Brisbanre) as a bridge engineer/designer 6 years ago.  My best mates were too kind to meet me during our leave.
Anyway, back to Jason and Mache's wedding: This is my very, very first overseas wedding shoot!  I pray and hope more to come!
This wedding was a bit hard for me though as my back-up/2nd camera broke down during the actual wedding shoot.  Well, the 300D has served us well anyway… It's probably time to have it retired.  It was no easy job for me, as I was the lone photographer to shoot and I am used to being the 2nd photographer. (I prefer shooting the candids/photojourns)
Here are some starters…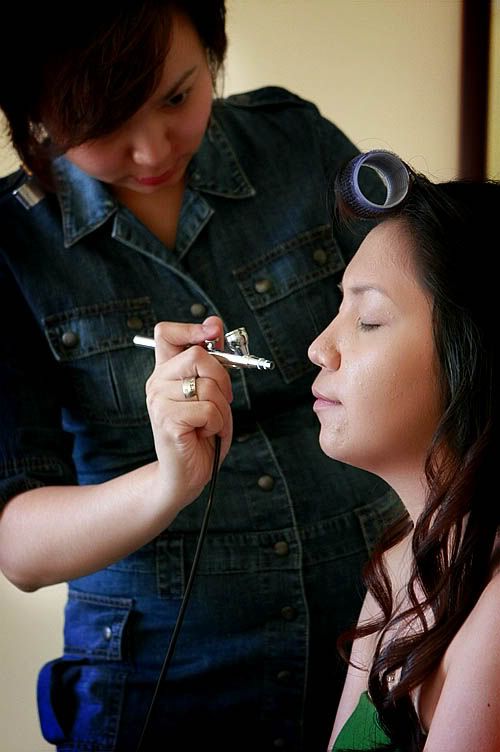 The beautiful make-up artist, my better-half( Miss Jeng Sy-Flores doing what she does best)
Here is Mr. Jason Cruickshank, the groom!
The wedding started at 1PM.  They had a lovely small church, sweet, secluded, the back of which is resort's beach, very, very nice view.  ON the downside, the alter had a glass, the harsh light source coming into the the chapel which made it difficult for almost everyone to take photos as the images will surely come out backlighted.   In such situations, and SLR camera is definitely a benefit!
Then after the mass/ceremonies, I had an opportunity to gather everyone outside the church but to my surprise the sun was really striking hot giving me an odd overoveposed shoot! Darn! O well, I think it still turned out well!
We had a recess and continued shooting in the afternoon…
then had a sumptuous dinner!
To Jason and Mache: Howaya Mate?  Congratulations and Millions of thanks for having us during your special day!
Venue:   Rydges Hotel Resort, Yeppoon, QLD, Australia
Posted by:  Ferdie Flores, Philippine Wedding Photographer