Posted by: FerdieFlores, MSCE
Event Date: 20 Mar 2009
Ceremonies: Sanctuario de San Antonio, Forbes Park, Makati City
Reception Venue: The Loft @ Manansala, Rockwell, Makati City
Coordination: Dazzling Celebrations by Bing Daza
Catering: The Manila Catering Services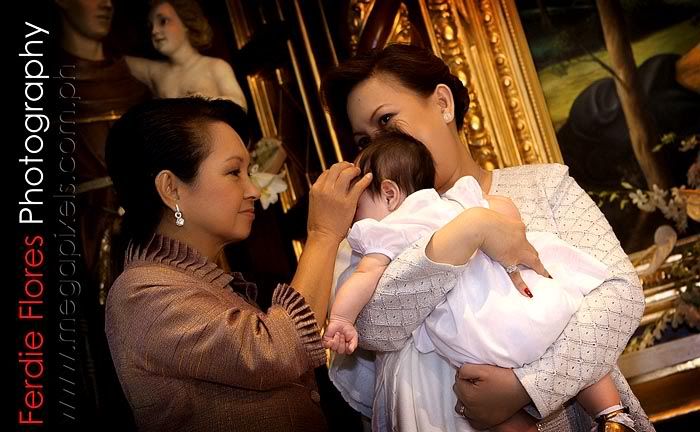 "Yup!  You guessed it right!  It's madam Ninang President! :)"
It was early call time again for the team!… we were pretty excited as we were told that we will be serving some of the royal few twins : Raphael and Gabriel! 🙂  Aren't they double the cuteness?
We were also told that some of the expected guests were known politicians… and even Madam President herself!… and I told myself: "The Philippine president in a baptismal ceremony? – Nah! she'd probably be too busy to attend any!  Oh boy, was I wrong! 🙂 … "Ate Glow, was it you?"
The guys were so excited, they probably won't take the inspection sticker off for a while!
Presenting the Gold Plated shoes by Gucci! Haha!
Here is Gabby!
and then, here's Ralph!
As a wedding photographer, I thought doing a Baptismal was too easy!
By 10AM we were already at the church… and so were the guards!… and then strangely, I noticed, that there were a lot of security personnels around.  Were probably expecting someone very, very, very important!  Ahhhh… and now presenting the stars: Gabby and Ralph! 🙂
…Along comes their georgeous Ninongs and Ninangs!
Everyone could hardly move. It was so hard to get a shot especially with the space Sanctuario de San Antonio provided… We should've used the altar!
… and at the Loft @ Manansala (Rockwell, Makati City)… another first for me!
Here is proud Mom and Dad with Miss Bing! 🙂 The Fabulous Venue Setup Fabricator – Organizer!
To Future Stars Gabby and Ralph: Welcome to the Christiany! 🙂 May you and your family be continually be blessed!!!
*** end of post ***